As you probably know, my taste in watches leans towards the new, hip side of it all. I like bulky, rugged, basically those in-your-face replica watches. I haven't reviewed too many Day Dates, and I can't say that I consider it to be the best Rolex replica because in the end it's a matter of personal preference. But even so, having a specific taste, I can't dis these watches, even though at times, I find them a little boring. However, this is not one of those cases and I must give credit where credit is due.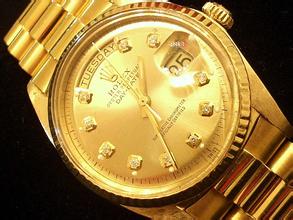 Day-Date 40 models have the words "Clam Perpetual," "Day-Date," and "Superlative Chronometer Officially Certified" composed on the dial. Aside from the yellow gold model, each of the Day-Date variety has particular laser scratched themes on top of a sunray completed dial.
The platinum has an Ice blue dial, with a slanting theme on sunray complete, the rose gold has a sundust, with stripe theme on sunray complete, the white gold has a silver dial with a quadrant theme on sunray completion, and the yellow gold elements champagne-shaded sunray wrap up.
The Day Date, also referred to as the President, has that classy power, classic looks going on. They get just the right amount of attention, without sticking out too much.
Really nice and crisp Rolex Day Date replica watch here, like I said, I must give credit where credit is due.