It's finally time for this Vacheron Constantin replica watch video review. You'll find some more replica Vacheron Constantin reviews under the link or more fake watches reviews on my homepage. I don't have a ton of Vacheron fake watches reviews because the brand is not as popular as the "main stream" fake watches brands and even though they have tons of simple watches like this one for example there's not a lot of interest in the replica watches world to make them.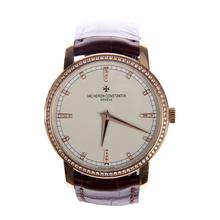 It's one of the most simple, classic and vintage looking fake Vacheron watches I've seen. It keeps that exquisite and expensive Vacheron looks that's for sure, and know that these pieces are usually very expensive. That's I think another reason why making good 1:1 Vacheron Constantin clones is not that attractive to the manufacturers. Either way you can't go wrong with a piece like this one.
Looks very simple and clean doesn't it!? I think so too and I think it's one of those pieces that no one will really question it's origins. Looks too legit straight-up for having to doubt about it.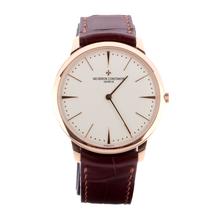 Movement is Japanese automatic self-winding and it's visible thorough the see-through back case. It looks good and it has the Vacheron cross engraved on the rotor. Power reserve is usually over 24 hours on these babies so it's all good for an everyday wear if that's the case here. I think it's a pretty watch that you can wear everyday or only for special occasions.
It's very much a contemporary watch as it is a vintage piece in my opinion. I mean, this is the type of watch that you can wear for the next 20 years and never go out of fashion though who knows what we'll be wearing in 20 years form now!? I see it as a fun piece to have anyways and I'm glad that thanks to a family friend I got to do this review on it.