The Breitling Barnato Racing is a watch that is famous for its elegance combined with great functionality and amazing design. Once you wear this beautiful watch on your wrist everything changes as it sets the tone for an incredible look. You will simply love the fact that you can wear it with more smart casual attire or even with elegant outfits. So it's a perfect watch to take with you on a date or perhaps a meeting or both.
No matter what your intentions are, the beautiful Breitling Barnato Racing celebrates one of Bentley's greatest drivers from the 1920s, Woolf Barnato. So you don't just have a watch, you have a piece of history on your hand. But not everybody can afford a Breitling Barnato Racing anyone who wants to wear one on an average wage will have to settle for a replica. Here we have put two watches up for comparison, one a replica and the other an original watch.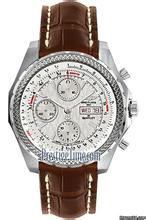 The bezel of the Breitling Bentley Barnato Racing  is another crucial detail that makes the difference between a good replica watch and a poor one. The original model has the iconic raised motif stainless steel bezel. For no apparent reason, most replica manufacturers produce it without this type of bezel. Instead they use a satin brushed one with circular motifs, like in the below pictures. Stay away from fakes that have this style of bezel.
Another important aspect is the indexes from the small dials. The 6 o'clock counter should show 2, 4, 6, 8, 10 and 12, the 9 o'clock counter should display 10, 20, 30, 40, 50 and 60, while the 12 o'clock one should include 5, 10, 15, 20, 25 and 30. Don't be surprised to find different markers on an inferior  quality replica. Only the best fakes respect this very essential detail.
Another distinctive part of this model is the non-slip grip screw down crown with matching details. This stainless steel sealing piece has a squared raised surface that accentuates its rough and modern look. Most poor fake watches lack this small, but very significant aesthetic embellishment.
If you want a replica watch this watch can be a decent buy but it's not as accurate as one would expect a replica to be and a trained eye might tell apart this from an original Breitling Barnato Racing with white dial.